Since its inception in 2004, the french carpool company no longer needs to promote itself. With over 60 million members worldwide, BlaBlaCar aims at a mobility strategy with a simple motto 'Bringing people closer'.
BlaBlaCar, key figures
Carpooling, now widely used, creates a unique space where new types of interactions take place. The diversity born from the discussions between drivers and passengers is one of the firm's key strengths who highly rely on all types of diversity (generational, social and cultural) to bring a new blow to the transport industry. No less than 50% of BlaBlaCar members thus indicate that the people they have traveled with, in the past year, represent a greater diversity compared to the social circles they typically interact with.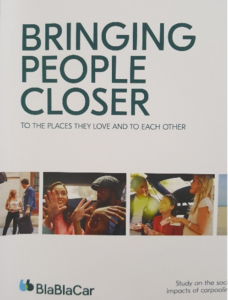 Far from this observation, it is mainly trust that was the biggest challenge for the company. Today, 88% of BlaBlaCar members give a high level of trust to another member with a full online profile. A figure that is really high since it barely reaches 60% amongst colleagues (58%) and 42% between neighbours.
To build on this indispensable tool to enable the brand expansion, BlaBlaCar goes all out: option for online booking with anticipated payment, more detailed user profiles for complete transparency, links to Facebook and LinkedIn accounts to increase trust. Everything is done to justify the excellent ranking on the trust podium.
The message is crystal clear: BlaBlaCar pursues a social goal as shown by its communication strategy around interactions and relationships rather than on pure transport information per se. And it works. 84% of the travelers declare having had enriching exchanges while carpooling, 76% feel useful to others by listening or exchanging and 21% revealed things about themselves that they never talked about before.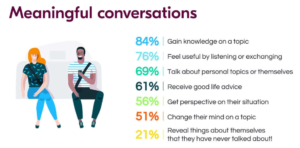 'Our community now reached 60 million members and we wish to convey the good energy of BlaBlaCar through the brand : a mean to bring people closer to each other, as well as places we love' (Frédéric Mazzella, Founder/President of BlaBlaCar)
A positioning oriented towards a close-to-home mobility
BlaBlaCar now counts 38,000 different departure points all over France for any given week end with high activity (3,000 train stations in comparison). No surprises there since cars remain the universal connection mode to this very day. But BlaBlaCar wants to go further.

Historically, meeting points were set on central locations (city centers, stations…). And yet 85% of the French population does not live near a central point and is therefore poorly connected to all existing transportation network. The issue is raised: how to connect these people locally?
« BlaBlaCar near my home », the new paradigm
The carpooling leader is launching a new offer which should be fully available by the end of this summer and which is currently being tested. With a new itinerary search engine, the company intends to tackle the local mobility issue.
What is new? Each passenger will be able to fill in a precise departure and arrival point. Nothing new under the sun it seems, yet it is a quite unusual custom when it comes to search for public transport (metro, bus, trains…). On the opposite, it is highly used already especially for taxi services or GPS location for longer trips. It has even become a common habit for taxi and VTC drivers with the development of car sharing services like Uber Pool or G7 Sharing. A new feature which implies a behavioral change in the way users fill in their information, to help the company leads its quest for a more accurate travel data.
Let us not stop at the full address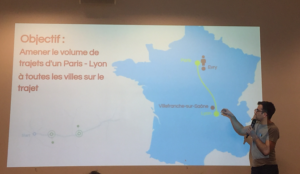 Originally, when declaring a trip, the algorithm only displayed traveler profiles who were looking for that exact same travel. Far from representing the complete need for mobility on the route, the itinerary engine will now allow any passenger to book a sub-leg of the overall trip.  The algorithm is indeed configured to automatically display many more meeting points on the route of the driver and not from its origin to destination points only. While waiting for its release, you can discover the number of BlaBlaCars near your city with the new algorithm here.
To maintain traveler's experience, the tool will limit the number or duration of the deviations to perform (about 5 minutes around the route) for the driver but also for any passenger who would be doing the entire trip from A to B. To avoid any discontent, BlaBlaCar aims at total transparency on the potential deviations by informing all passengers ahead of their trips.
This tool thus aims at bringing a new solution to a well-known user issue: multimodal transport often looks like an uphill battle, with long, expensive and exhausting travels. BlaBlaCar wishes to make a possible transport line out of each route with several million of potential new meeting points.
'Thanks to that new algorithm, we will be able to create a bigger network and to offer more autonomy to travel. Our vision is plain: everywhere there is a route, there could be a BlaBlaCar' (Nicolas Brusson, co-Founder / CEO of BlaBlaCar)
Human connections at the core of the new visual identity of BlaBlaCar
The message is plain and simple 'BlaBlaCar is not only for big cities!'. A change in positioning that is also highlighted through the new visual identity of the brand. Click here to discover the video!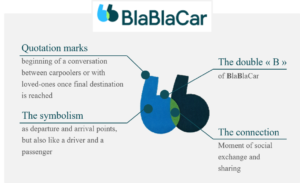 With this new algorithm, BlaBlaCar wishes to change the consuming habits of its members, allowing slightly longer travel times without any financial gains for the drivers. But it is first and foremost a reply to the need for mobility of an other type of potential users, less connected by the current transport modes. The pursuit of a mobility network ever more connected…